Avigail Abarbanel
Psychology Department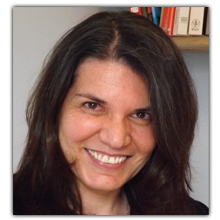 Counselor, Supervisor - BA (Hons), Grad. Dip. Psych/Couns, Cert. Gestalt Counseling - Registered Member MBACP (Accred), MCOSCA (Accred)
Professional background
Avigail was born in Israel in 1964 and moved to Australia with her first husband in 1991 aged 27. In 1995 she graduated from Macquarie University in Sydney with a BA (Hons) in social science. When she decided to change direction and become a psychotherapist, she discovered the Jansen Newman Institute (JNI) in Sydney where she felt immediately at home. In 1998 she completed her Graduate Diploma in Individual Psychotherapy and Relationship Therapy at JNI, and during 1999 continued to study for a Certificate in Gestalt Counseling at the Illawarra Gestalt Centre. In the same year she moved to Canberra with her second husband Ian, and opened her private practice, Fully Human Psychotherapy and Counseling.
After arriving in Canberra she joined the local psychotherapy and counseling association Counseling and Psychotherapy Association Canberra and Region (CAPACAR – formerly ANNC, Australian National Network of Counselors).
She served as Secretary during 2000-2001 and as President in 2002. Avigail has been on the Psychotherapy & Counseling Federation of Australia (PACFA) National Register since 2003 and in 2006 was accepted as a member of the British Association of Counseling and Psychotherapy (BACP). In May 2008 she received her accreditation with the BACP.

"At times we feel compelled to hold our past experiences accountable for our present condition. The desire to blame who we are on what did or did not occur in our lives overpowers our need to be accountable for what we choose to do or not do about it. It is not the action, but the reaction to the action that is of the most importance. To live this truth is our opportunity to redefine ourselves." – Richard A. Snipes